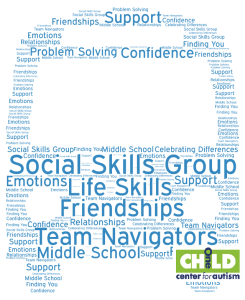 What is Team Navigators?
Team Navigators is a Social Skills group designed to help children navigate social settings.
Who can benefit from Social Skills Groups?
Children who have trouble navigating social settings. Many of these children may have autism spectrum disorder (ASD), speech-language delays, ADD/ADHD or other developmental delays. One Child accepts children of all disabilities.
What type of skills are taught in a Social Skills Group?
One Child believes in the value of social skills groups to help children with autism interact with their peers and navigate social settings. One Child's Social Skills groups work on pragmatic language skills (e.g., joint attention, eye-contact, verbal exchanges), social awareness, problem solving, life skills (e.g., self regulation, self advocacy) and more. Team Navigators also works to help address the complex adolescence challenges such as peer pressure, bullying, and emotional understanding.
How are the groups structured?
Team Navigators meets once a week for 90 minutes for between 8-12 weeks, depending on the semester and is conducted by a Speech Language Pathologist (SLP) and a Special Education professional.